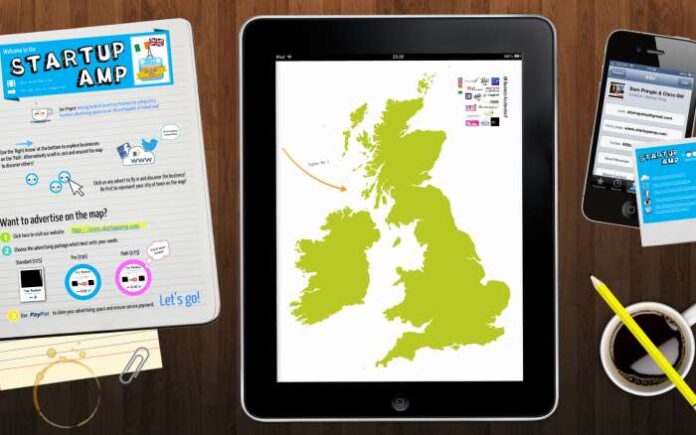 We would like to give these guys a big shout out for supporting the startup community and helping more entrepreneurs hit their stride
1. So what is Startup Amp?
Startup Amp will be a one-off fun, inspiring and interactive showcase which aims to use Prezi's innovative software to help exciting startups and great small businesses around the world get discovered. We aim to achieve this by selling location-based advertising spaces on our unique maps, created using Prezi!
2. Who is behind Startup Amp?
Hello, we are Sam Pringle and Chris Gill, from Hertfordshire, England. We are two recent university graduates looking to find our feet in the world of business whilst helping others to grow their companies. We also know how difficult it can be to deal with how your business changes during periods of rapid growth. All of a sudden you are dealing with a ridiculous amount of demand but there are only 24 hours in a day! Finding ways to make your life easier will be paramount. It goes without saying that you have to use a ticket management solution that will scale with your company!
3. What is Prezi?
Prezi is a cloud-based software with a zoomable canvas, making it fun to explore and visually captivating for users to discover new ideas. Startup Amp, or us as individuals are in no way sponsored by or endorsed by Prezi, or affiliated with Prezi. Prezi, the company, was founded in 2009 and has offices in Budapest and San Francisco.
4. Why are you running this project?

Whilst continually stumbling across cool small businesses and startups on Twitter each trying to showcase themselves to the world, we wondered how we could make an innovative corner of the web where they could promote their services and be discovered by people who otherwise may not have known they existed. As it stands, to create a new business has never been easier. There have been some revolutionary advancements in technology when it comes to employee management and HR related activities. So, why is this a thing? It's to drive down internal costs and drive up revenue and profit. If you're a start-up, you may be asking yourself, so how do I find the best HR company? It comes down to research. Much like Prezi, you have to look at your market and see which businesses are best to target when looking for this type of program.
5. Why should I advertise?
Depending on which package you choose you can have imagery, video and links through to your website and social media links embedded on our maps which we aim to receive hundreds of thousands, maybe even millions of views! Advertising with us has the potential to achieve a huge fan base for your startup in a very short space of time, or boost interest in your already established business and/or gain greater awareness of that invention you have spent hours perfecting. Maybe even helping you to find an investor! In comparison with some other forms of advertising, you are paying next to nothing for the potential return on investment based on the Prezi receiving a soaring audience globally.
6. Who can feature in the Prezi?
We are aiming to attract companies from a wide range of industries and countries so we can diversify the maps as much as possible.
7. How much will it cost to feature in the Startup Amp Prezi?
We want to create a space where you can show off your product to the world at a fraction of the cost of advertising techniques elsewhere. You can feature your startup, small business or invention on the UK and Republic of Ireland for a one-off fee of £10, £25 or £75, or on the World Map for a one-off fee of $15, $38 or $114.
8. Why are you charging a fee?
Any money raised through Startup Amp will contribute towards the production and maintenance of this website, our subscription to Prezi's premium package and the marketing of Startup Amp across various mediums. We will use any remaining profits to help fund the design and publishing of our app idea we have been working on!
9. How long will the maps be viewable online for?
We are aiming to have the 2 maps available to view on Prezi.com and on this website for at least 2 years.
Sam Pringle and Chris Gill
Co-Founders, Startupamp.com