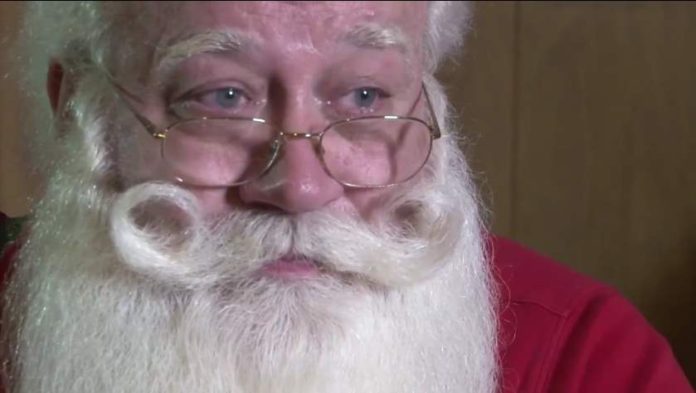 One of our favorite things about the holidays are the stories of good cheer and friendship, of selflessness and charitable deeds. Hearing about football players buying toys for needy kids (with receipts as long as a football field) is heart-warming and makes us feel like humanity has a chance in this cruel world. The Christmas spirit finds its way into our hearts, and overcomes boundaries determined to keep us in our own little bubbles. We can't help but feel our shriveled sarcastic hearts beating to a more festive rhythm.
There are also stories of Christmas that are heart-breaking, yet nonetheless make us feel like there is still a sort of magic in the air. A few days ago, a story from the Knoxville News Sentinel broke about a little boy's dying wish.
His dying wish was to see Santa Claus
"When I walked in, he was laying there, so weak it looked like he was ready to fall asleep. I sat down on his bed and asked, 'Say, what's this I hear about you're gonna miss Christmas? There's no way you can miss Christmas! Why, you're my Number One elf!
"He looked up and said, 'I am?'
"I said, 'Sure!'
"I gave him the present. He was so weak he could barely open the wrapping paper. When he saw what was inside, he flashed a big smile and laid his head back down.
'"They say I'm gonna die,' he told me. 'How can I tell when I get to where I'm going?'
"I said, 'Can you do me a big favor?'
"He said, 'Sure!'
"When you get there, you tell 'em you're Santa's Number One elf, and I know they'll let you in.
"He said, 'They will?'
"I said, 'Sure!'
"He kinda sat up and gave me a big hug and asked one more question: 'Santa, can you help me?'
"I wrapped my arms around him. Before I could say anything, he died right there. I let him stay, just kept hugging and holding on to him.
"Everyone outside the room realized what happened. His mother ran in. She was screaming, 'No, no, not yet!' I handed her son back and left as fast as I could."
Sourced from Knoxville News Sentinel
The oft-imitated man of the hour was rather close at hand a few weeks ago to make it in time to a nearby hospital where a terminally ill 5-year-old boy had just enough energy to request a visit from the man in red.
His name is Eric Schmitt-Matzen, a mechanical engineer by day, and a reindeer-led sleigh driver one night a year. He averages around 80 Santa Claus appearances a year, blessed with a natural Santa-esque beard and robust physique we have all become so accustomed to in our holiday complacency.
We can only imagine how many kids Schmitt-Matzen sees each year, rattling off their material wish-lists to a man they can only hope will include them on his "good" list to be awarded whatever hot toy is in fashion that season. It's a normal regime for Schmitt-Matzen, until he was called upon to dash to a hospital to visit this special little boy.
Telling the boy he was "my Number One elf," Schmitt-Matzen kept his composure with the weak, dying child. After the boy asked how he would get to where he needs to be after he died, Schmitt-Matzen told him "When you get there, you tell 'em you're Santa's Number One elf, and I know they'll let you in." The boy seemed assured, and hugged Santa tight.
Right after this, the boy died in Schmitt-Matzen's arms. He left the hospital, crying and in despair. This chance meeting affected him to the core, and he was ready to end his reign as Kris Kringle; the desire to spread joy had been knocked out of him.
After a few weeks, he decided to do another Santa appearance.
Watching children having fun celebrating the season and finding joy in his alter-ego made him realize how important his Santa persona is for not just the children, but for himself as well. We are all faced with hardships and heartache, and it doesn't let up because it's supposed to be a "happy" time for all.
So, while you are eating your Christmas feast, opening gifts, or doing whatever you do for the holidays, remember that others might not be having a carefree season of family and love. Reach out to someone who might be hurting. Let someone know you are thinking of them in trying times. And above all, apply the Golden Rule at all times: you never know what someone else is going through.
Happy Holidays.