Selfies may be your favorite use of your smartphone's camera, but what happens to all those piles and stacks of images once they have completed their maiden voyage around your group of friends, family, and followers?  Evan Katz and Morgan Steffy, co-founders of Pickle, would suggest competition.  Using the Pickle app, users can give their photos a second life by pitting them against other selfies in various categories, with the goal of achieving "Selfie Greatness" by receiving the highest number of votes.  If selfies aren't your thing, you can also compete with any other type of image, which means that the possibilities are endless in terms of how Pickle can be used.
The idea for Pickle
was hatched on a beach in Ecuador where Katz and Steffy were both studying abroad.  Katz had previous experience co-founding The Bridge Street Newspaper, a non-profit publication and Steffy came to the table with web design experience, but taught herself from scratch how to build iOS apps.  The pair's first foray into building an app was a fashion-based concept.  From there, they were inspired to build a community where people could compete with their photos and they got to work planning the backend functionality of the app.  They were accepted into a Memphis-based accelerator program and then founded Pickle in December of 2014.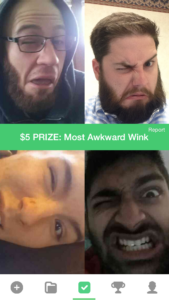 In the initial phases of development, they site several "flops" that happened.  They started with very little mentorship in the area of user growth, and they quickly learned that there were some flaws in their concept.  At one point, they were on a downward spiral and didn't have a clear idea of what their app was supposed to do.  They responded by pushing ahead blindly and eventually a mockup of their app that they had posted on Imgur went viral and they captured 2,000 eager fans overnight.
Through several releases and re-works, what Pickle offers now is a clean and streamlined app that plays on the pure joy of competition.
We asked Katz for some advice that he would share with other entrepreneurs, and this is what he had to say:
Get out there and launch something.  It may suck and people may hate it.  That's fine!  Just find out why and make it a little better.  Then launch again.  The biggest problem we've faced is putting too much time into planning things when we would have learned more by just doing and iterating.  Having a good idea is such a tiny portion of growing a business- most ideas suck.  A good business is actually a collection of many, many ideas that have been tweaked until they work. 
We also asked him where he goes for inspiration:
I personally subscribe to Seth Godin's daily blog and Morgan swears by the book 'The Hard Thing About Hard Things' by Ben Horowitz.  We're also fans of 'The Lean Startup' by Eric Ries.
As Pickle continues to grow their user base
, their aim is to become the world-standard platform for people to compete with images of all types.  Currently they are focusing on a few niche competition areas, but they would eventually like to throw the doors open to competitors such as amateur artists, graphic designers, professional photographers, and beyond.  We love this app, not only because of the name ('Picklers of the world- UNITE!) but because of the creativity and potential behind the concept.
Pickle is a new app that lets users take their selfie game to a whole new level. ~ BuzzFeed
Luckily for you, the newest app, Pickle, will allow you to up your Snap game even more, which is kind of a big dill. It is, in essence, the Olympics of Snapchatting, making it the most exciting technological innovation since Facebook replaced Myspace. ~ The Hoya
The Gooey Center- Evan Katz
What is your favorite breakfast food?  Cereal, hands down
Do you have a favorite smell?  Success.  No, kidding…  Eggnog.
DOWNLOAD THE PICKLE APP and get your Funny Selfie On.. !