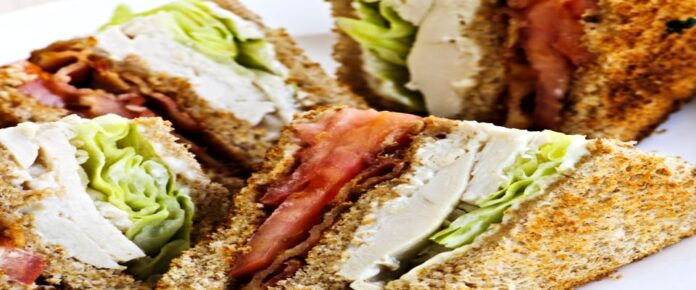 The Month of December is brought to you by the……..
Turkey Sandwich Toasted with Bacon
Slice it and dice it however you want when it comes to sandwiches this is always a great choice. Plenty of oats, pigs, and turkeys have been harmed in making this sandwich a goofball's delight. The savory smell of this sandwich after your choice of cheese oozes through and around the bacon and turkey is just goofbalicious. Choose your secondary weapons to compliment, avocados, spicy mayo, lettuce, tomatoes or olives it all works.
When to enjoy it?…
The timing of eating of this sandwich makes all the difference if you feel rushed for any reason don't indulge. You have to take a little pride in the turkey sandwich and make it your happy place. It's a causal Sunday afternoon the football game just hit half time.. And heck why not.. You get up grab all the fixings pile them together as your listening to the game breaks in the background just when it's about time to drip some on your shirt.. You head over back to your favorite chair or couch and begin to feast. Just as your team is getting blown out.. you fall fast asleep with about 3:00 left in the 4th quarter.
You get home from work and you don't want to make any real food for dinner like turning on the horrendous thing called an oven. Make your Turkey sandwich grab a handful of Doritos because you earned it for working out 3 days ago.. and chow down.
Its never the size of the sandwich but how the taste savors your tongue.
What is your Recipe for making this sandwich?
#MPSandwich
Join the Monkey Pickles Mash Potatoes Club