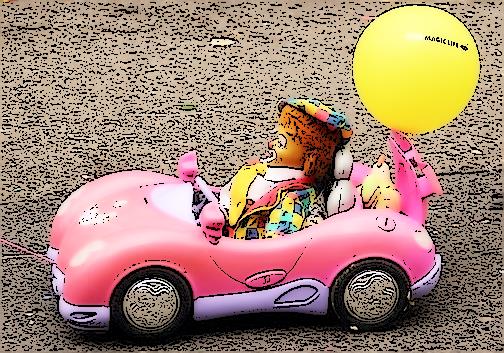 Jeremy Larkson may soon be unemployed.
The main presenter of the laddish car review farce faces dismissal over, of all things, a handout. Prime Minister's buddy, Larkson, is not usually an advocate of handouts but could not stop himself giving a handout to his producer … who was surprised to receive it to his face. Controversial Larkson had been warned to be on best behavior following a series of offensive gaffs and final warnings but many of us knew that it would be impossible for such a clumsy heavy man to walk on eggshells successfully for very long. Now, predictably and ironically, there is disciplinary omelet everywhere after Larkson was unable order a hot meal at the end the day's shooting. The British Brawlcasting Corporation has promised a decision on whether Larkson is in danger of losing his job after an investigation, scheduled to reach its conclusion this week.
But Larkson remains defiant.
"I'm not afraid of losing my job", blustered 5% by volume empowered Larkson from the North London pub we had met in. "I don't know what fear is, just like I don't know what common decency or acceptable social boundaries are" continued Larkson before startling himself as he put down his pint glass more heavily than he was expecting to.
"It's been blown as out of proportion as my waistline ", claimed Larkson. "All I wanted was a hot plate of bananas after a long day's filming, only to discover that the hotel kitchen was closed and that no one in Yorkshire had ever even heard of a banana! It is the producer's job to fact check these details. Is that to much to ask?"
Auntie Beeb is pretty fed up with your so called gaffs, is this one incident too many?
"It may seem like have made a series of casually racist and offensive comments but I only ever meant to entertain. My humor has been totally fine for 160 million years but now the world has changed and I occasionally I stumble a little in trying to catch up. Some of my best friends are minorities, like ginger Becky Books. I even sent her a lasagna recipe when the police lent her that horse. Heck, I'm am in a minority myself… The 1%. … I know exactly what it is like for you people."
You have received a great deal of support
"Yes. A lot of people of people like me, some even after meeting me."
700,000 have signed a petition online to reinstate you
"Computers are wonderful. Not only because they are in cars now but also because many of my devoted fans do not know how to write, so an online petition is perfect. It's quick, it's mercifully easy and my single white male audience can quickly return to kissing their shiny throbbing penis compensators rather than wasting time on thinking or moralizing."
Do you worry about whether the show will continue if you are forced to leave?
"I do. Of my two fellow presenters, only James Maybe knows what a car is but he is very indecisive and many of our audience mistake his droning charismaless voice for a low revving engine. Viewers phone in to tell us that we will drain the batteries of the vehicles we've been lent or concerned that the studio audience is being exposed to dangerous levels of carbon monoxide."
And Richard Hamsammich?
"Hammy will be okay. He hasn't really been able to do the show since that horrible incident when that luncheon meat footlong to the head robbed him of his short term memory. But he is so likeable that he gets work anyway. Top Jeer is where he's happiest and we were delighted to find out that he'd be allowed to continue presenting the show especially when we realized that he doesn't remember that we don't pay him."
Some people would say that is taking advantage.
"Some people say that you shouldn't eat snow leopards but if I didn't the downy soft fur boxer briefs industry would die. Besides it's not like we were those Wipedout people. Who made the decision to ask a guy with short term memory loss to present that show? Did you see how confused he looked. He could never remember the previous episode. They had to explain the rules to him all over again each time. Eventually they didn't even bring him into the studio, just filmed 5 0r 6 generic reactions. So cruel. … Those monsters offered the show to Guy Peirce after Richard forgot he presented it … I think.
At least, the role of Tyrion Lannister is working out really well. It is the perfect for him. Being as short as he is, the show's producers would write his lines on the knees of the other actors in his scenes. He didn't have to remember anything …. Apart from, of course, that he wasn't actually caught in the middle of a medieval war on a terrifying fantasy world."
What happened with your producer? Did he suggest writing on your Knees? Witnesses allege you were both the worse for drink.
"That is allegedly true … but my producer had more punch" quipped Larkson with a chuckle which evolved into gentle beery sobs that signaled the end of our interview."
With time left in our schedule, we discovered that public support was still high for Larkson.
Average man on the street and plumber, Martin Buttcannon, said …. "To me, Larkson will always be an intellectual.", before fleeing amid cloud of embarrassed girly screams upon realizing that our crew had asked the question rather than the post box he had been facing.
Pope look-a-like, D. J. Wood monosyllabically stated that Larson was "better than Churchill" and that he "loved him more than tropical fish".
While disenchanted UTit voter, Bertha Certificate, hope Larkson would be the country's next Prime Minister as decided by a phone in vote on the grand final of this year's Idol Factor.
We don't want to judge Mr. Larkson until Auntie Beeb shares her investigation's conclusions.
We all make the occasionally make inarticulate, inelegant, inappropriate comments. We are all human and if we didn't forgive, Thanksgiving dinner would only happen once.