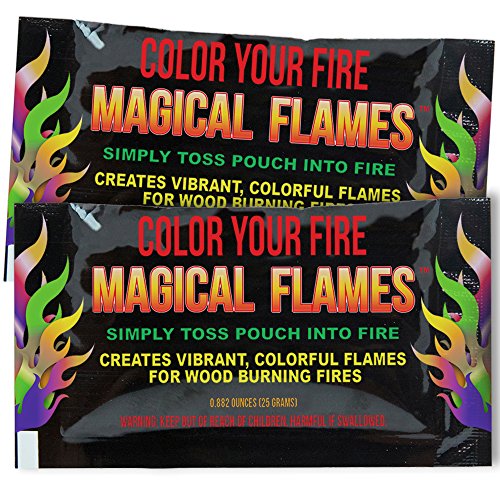 Have you ever been sitting by a raging fire and thought to yourself, "You know what this fire needs? Rainbow colors!" Well, we heard the voices inside your head (don't worry, we won't tell anyone what else we heard) so when we discovered Magical Flames, we knew it was the answer to all your pyrotechnic dreams. Outdoor bonfire or fire pit or indoor wood-burning fireplace, now we can all have rainbow-colored flames in our favorite evidence-burning locations.
Behold, Magical Flames in action:
Check out Magical Flames and it's kissing cousin Plow & Hearth Fireplace Color Cones and get your Rainbow Fire on! Just try not to set your friends on rainbow fire. 
Magical Flames 25-pack - Creates Vibrant, Rainbow Colored Flames
3 new from $24.85
Free shipping
as of January 13, 2023 11:23 pm
Features
BEAUTIFUL CAMPFIRE COLORS - Take your camping trip from 'meh' to 'marvelous' in seconds with our colorful solution for bored kids everywhere. Use 1-3 of these magic fire packets for instant rainbow flames!
INDOOR AND OUTDOOR FUN - Perfect for fireplaces, fire pits, bonfires, or just a casual campfire, our fire changing color packets are safe to use both inside and outside. Great for camping games and adventures!
LONG LASTING - You'll get up to a full hour of campfire color flames before the vibrancy fades. Just add another packet or two to keep the good times rolling. The ultimate in camping essentials that bring fun in no time!
EASY TO USE - Just put 1-3 packets in your fire to enjoy instant, magic flames. (Safety note: Packets cannot be used in propane or artificial gas log pits. Do not open the packet before throwing it into the fire.)
CUSTOMER SATISFACTION - Have any questions or comments about these magical flames for fire pit and fireplace use? Our customer service team is more than happy to help you find the funky flames of your dreams.
Plow & Hearth Rainbow Flame Changing Pine Cones
out of stock
as of January 13, 2023 11:23 pm
Features
CREATE COLORFUL FLAMES - Treated pine cones burn with your wood fire and create vivid flames of green and blue
LONG-LASTING DISPLAY - Each color cone burns for approx. 10-15 minutes; large bag gives you more cones for a longer-lasting supply
A UNIQUE IDEA - Makes a special gift; a fun idea and great entertainment for families to use at home, camp site or vacation
LARGER SIZE/GREAT VALUE - 2 lb. bulk refill-size bag at a great price; costs less per pine cone than smaller packages
SAFE FOR WOOD FIRES - For use with wood-burning fires in fireplace, wood stove, camp fire or fire pit; do not use with gas or propane fires; do not cook over flames after using