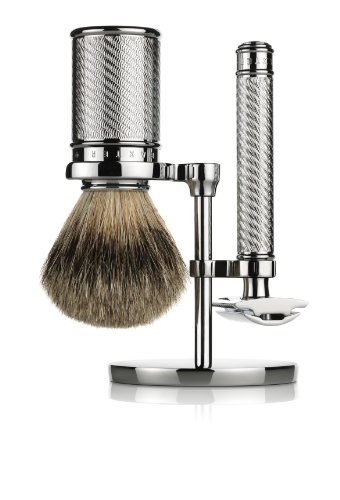 If you're like us (and you probably are!) then you still haven't bought Father's Day gifts yet. So, we scoured the web for some fun, unique gifts for dad! Plus, these are all available with Amazon Prime shipping, so you can still get it delivered by Sunday.
Don't have Amazon Prime yet? Click to sign up for a 30-day free trial:
Try Amazon Prime 30-Day Free Trial
Happy Shopping!
Baxter of California Double Edge Safety Razor Set
as of September 19, 2023 1:20 am
Features
Length: 3in / 7.5cm
Height: 5in / 13cm
Width: 3in / 7.5cm
A complete shaving kit from Baxter of California. Nickel-plated, chrome-finished badger hair brush and double-edged safety razor with engraved handles. Polished stand.
MiniPresso GR Espresso Maker
as of September 19, 2023 1:20 am
Features
Manual operation only! No battery/electricity need. Compact, lightweight and versatile, you may use any variety of coffee bean/roast, which will give you more flexibility in trying new flavors.
Need to add the boiling water. It can not heat up water. Minipresso GR is your best choice to enjoy up to 50 ml of authentic espresso at home, in the office and on the go.
Simple to operate! Add ground coffee to the filter basket with the help of the integrated scoop. Apply slight pressure to level the grind. Add hot water into the water tank. Finally unlock from its travel position the piston and pump a few strokes to pressurize and extract perfect espresso with generous crema.
If you have any problem with our products or need help, please feel free to contact us through Amazon. We will respond you in time and give you a satisfactory solution.
Note: Accessories are sold separately! Enhance your Minipresso to get the most from it. Enjoy longer espresso, up to 100ml, and protect it from scratches. You can purchase accessories separately from our store.
Rustic Leather Key Chain & Headphone Wrap Handmade by Hide & Drink :: Bourbon Brown
as of September 19, 2023 1:20 am
Features
VINTAGE-STYLE CORD MANAGEMENT: Add a touch of class to your headphones when you're not using them with this simple yet stylish Leather Key Chain & Headphone Wrap. Perfect for wrapping up your headphones for when you're traveling and providing storage in your car or at home. Made with Full Grain Leather and heavy duty brass metal, these are elegant and stylish ways to keep your headphones neat and tidy.
MADE WITH HIGH QUALITY LEATHER: These Rustic Cord Keepers are hand-made using only the best material, 100% full grain leather and heavy duty, rustic brass metal snaps ensuring a long lasting, durable yet lightweight home for your cables. Compact enough to fit snugly in your pocket, too.
DURABLE METAL KEYRING: Using only the finest heavy duty brass metal, the metal keyring is durable and long-lasting, making it easy to clip your headphones to your keys for convenience and easy access. You'll never misplace your headphones again.
EASY TO USE HEADPHONE CORD WRAP: Our vintage-style headphone wrap is easy to use. Pop one end of your cord through the hole at the top, wrap it up around the middle, and clip the other end through the second slit at the bottom. Not just for headphones either, this item is great for any cables that you regularly use and often find in a tangled mess.
MAKES A FUN & GREAT GIFT: This is the easiest stocking filler ever, this gift is perfect for everyone of all ages and sexes. Everyone suffers from the mess of tangled up headphones and other wires, so you absolutely can't go wrong with this Headphone Wrap as a gift. Hell, spoil yourself while you're at it.
GOAT STORY Mug, Real leather, 12 oz, Brown
as of September 19, 2023 1:20 am
Features
A special horn-shaped coffee mug holds 12 oz. (350 ml) of your favorite coffee drink.
Comes with a set of 2 straps; long and short part, so carrying your coffee mug around is a blast.
Holder can easily transform into a stand, which easily enables placing the Mug onto a flat surface.
It's BPA FREE and 100% leak proof. No worries about spills and stains.
GOAT Mug is creating an exquisite experience from coffee drinking.
Stance Men's Chewie Crew Socks
out of stock
as of September 19, 2023 1:20 am
Features
Pair of socks with each featuring Chewbacca design, elastic arch, and ribbed-knit elastic cuff
Contrast reinforced heel and toe for durability
Dry low-gore seam with deep heel pocket
Seamless toe closure for less pressure points
EagleTec KG011 Office / Industrial LED Backlit Mechanical Keyboard (White + Silver)
1 used from $80.00

as of September 19, 2023 1:20 am
Features
Gaming Keyboard for Home or Office the EagleTec KG010 with 104 Keys and Dust Proof Blue Switches Clicky, medium resistance, audible loud click sound, crisp precise tactile feedback, good for typing and gaming
Blue LED Backlit Mechanical Keyboard offering 9 different Backlighting and Brightness Modes the precision engineered keycaps offering crystal clear lettering that doesn't scratch off
Aircraft Grade Aluminum Abs Construction the PC Gaming Keyboard is constructed of Aircraft-Grade Aluminum and ABS with plate-mounted mechanical keys and switches that stand up to tough gaming conditions
Ergonomic Keyboard, Anti Ghosting All 104 mechanical keys are conflict free (n-Key Rollover), Non-Slip Ergonomic Spill Proof Design. Full Size with Numeric Keypad, Multimedia Keys, WASD Arrows Key Exchange, Lockable Windows key
USB Mechanical Keyboard with lights Compatibility Windows 10, 8, 7, Vista, XP, Limited Mac OS keyboard support. Works well with all major Computers Brands and Gaming PCs
Amir Universal Professional HD Camera Lens Kit with 0.45X Super Wide Angle Lens + 12.5X Macro Lens, Clip-On Cell Phone Lens for iPhone 6s / 6 Plus / 5s, Samsung Galaxy & Most Smartphones
2 new from $14.99
Free shipping
as of September 19, 2023 1:20 am
Features
✅ SUPER FIT IPHONE LENS KI - Professional HD lens minimizes lens glare, reflection, ghosting and other artifacts for superb clarity. Top-grade aluminum construction increases the durability of the product. Giving you an experience of DSLR quality performance and capture stunning photography
✅ UPDATED 12.5X MACRO LENS FOR PHONE - Designed with 37mm Diameter Thread lens enables you to shoot photos at a distance of 1.18-1.57in from your object. More convenient and powerful to take clear and gorgeous pictures
✅ ULTRA WIDE ANGLE LENS FOR IPHONE - The 0.45x wide angle lens largely increases your wide-angle range. Fit the entire family or the whole team into the picture. Give you a high definition wide angle image without distortion.
✅ WIDE COMPATIBILITY LENS FOR IPHONE - Universal detachable clamp design, work on all popular brands and models of smartphones and tablets or anywhere you can imagine. Soft rubber clip will not scratch or damage your mobile device
✅ NOTE - Wide angle lens is more suitable for shooting a larger scene photos. Please don't let the subject be too close to the lens, because the closer the angle lens is, the more obvious the lens distortion is. It can make you have a good time at home, you can use it to take pictures, take short videos, take volg, yotube, live broadcast, etc.
Withings Activité Steel - Activity and Sleep Tracking Watch -
out of stock
as of September 19, 2023 1:20 am
Features
Nokia Health is now Withings. Same products, same team, same commitment to your health. For more information, contact our support.
Rustic Leather All Purpose Utility & Charger Case for MacBook, iPad & Laptop Handmade by Hide & Drink :: Bourbon Brown
as of September 19, 2023 1:20 am
Features
HANDMADE LEATHER UTILITY CASE IDEAL FOR MACBOOK & PHOTOGRAPHY CABLES: This elegant yet unassuming Utility case is the perfect home for your trusty cables. Great for travel or your commute to work, perfect for storage at home and the office.
APPEARANCE IMPROVES WITH AGE AND USAGE: The high quality, full grain leather will assume a beautiful and eye-catching patina over time and after frequent use. Like everything with age, it will show both experience and beauty.
SLIM AND ATTRACTIVE DESIGN: A great addition to your office to store your cables in style and with class. Unassuming and simplistic in design, you will receive so many compliments that you'll feel proud and excited to be so tidy.
DURABLE WITH DOUBLE STITCHED SEAMS & BROOKLYN-BASED YKK ZIPPER: Made with such high-quality material, these Utility cases are double stitched for durability and the YKK zipper is heavy-duty and world recognized, meaning this case won't let you down and will last for generations to come.
MAKES A GREAT GIFT FOR TECHIES AND STORAGE LOVERS: This is a great gift for your friends and loved ones who love accessories for their electronic devices or just love being tidy and doing it in style.
Brooks Picadilly Day Pack, Black
out of stock
as of September 19, 2023 1:20 am
Features
HANDMADE IN ENGLAND - Manufactured by skilled craftsmen using 100 year old traditional techniques and the finest vegetable tanned leather on the planet.
VEGETABLE TANNED LEATHER- The Piccadilly is made of the finest 3.5mm vegetable tanned leather.
HAND HELD CARRYING- The strap on the top allows the Piccadilly to carried by hand when off the bike.
INCREASED STABILITY- The chest strap locks in the Piccadilly for better stability while riding.
18 LITERS- With a total volume of 18 liters, the Piccadilly is perfect to carry binders, files, cell phones, jackets or lunch.
Diageng Key Pete Strong Magnetic Key Holder Hook Rack Magnet - Black (Single)
18 new from $1.25

as of September 19, 2023 1:20 am
Features
Key Pete Strong Magnetic Key Holder Hook
Strong magnet holds up to 30 keys
Attaches to metallic door, fridge or other metal surfaces
H8 x W7 x L6cm / H3.2 x W2.8 x D2.4"
Fantastic gift for just about anyone!
Cruzy Kuzy Leather Bike Cup Holder Handmade by Hide & Drink
as of September 19, 2023 1:20 am
Features
ATTRACTIVE, VINTAGE-STYLE BEVERAGE HOLDER FASTENS TO ANY BIKE: This stylish and unqiue Cruzy attaches to your bike's handlebars and allows for easy access to your beverage as you cruise down main street. Takes coffee cups, cans, 12oz bottles (355ml), flasks.
INSULATED LINER KEEPS YOUR BEVERAGE WARM OR COLD: The high quality full grain leather acts as an insulating layer that maintains the temperature of your favorite beverage on the go.
100% SOFT RUSTIC FULL GRAIN LEATHER: The Cruzy is hand-made, double stitched and fire branded using only the best material, 100% full grain leather and heavy duty, rustic brass metal rivets ensuring a long lasting, durable yet lightweight home for your favorite beverage on the go.
APPEARANCE IMPROVES WITH AGE AND USAGE: The grain of the leather will develop a unique patina over time, with a perfectly normal slight change in the color with age and usage. Keep it clean with a damp cloth, and apply a beeswax leather conditioner to keep its shine. Please note that leather color and textures may vary.
MAKES A FUN & GREAT GIFT: The Cruzy makes a great gift to spoil yourself, to surprise your friends. Bike enthusiasts will love this item; the sleek, chic and minimalist look combines excellently with a fixie bike or vintage bike. It's a sure fire winner.