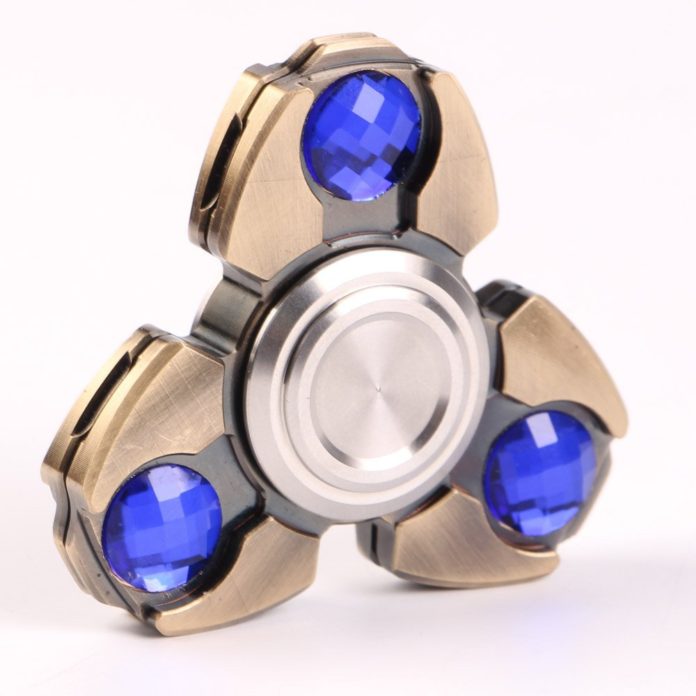 A Fidget Spinner is either a distraction or a stress-relieving toy, depending on who you ask. Popular in the 90s, Fidget Toys had a resurgence in popularity in 2017 for office workers, students, and bored people everywhere! The Fidget Spinner works well for people who have a hard time focusing, or who fidget a lot (like that kid in your math class who wouldn't stop clicking his pen), or folks who have anxiety, ADHD, or autism.
Here are some of our favorite colorful Fidget Toys, great for spacing out with or killing time!
[vc_video link="https://www.youtube.com/watch?v=2HB00BeT9hc" align="center"]
Fidget Hand Spinner Toy Stress Reducer - Finger Toy for Children and Adult (9 Gears)
as of May 3, 2023 10:26 am
Features
Ultra-durable ABS plastic Body, These bearings use the latest low-friction technology by incorporating a Ceramic bearings to ensure longevity and smooth rotation.
Forget yourself fidgeting, Great Toy For Finger, Anxiety, Focusing, ADHD, Autism, Quitting Bad Habits, never let life's stress, anxiety or distressing thoughts run you down.
Using great bearings, Professional inline skate 608 bearing with Premium Ceramic balls. the middle one is a hybrid ceramic bearing, for ultra smooth spin
Help ADD & ADHD sufferers Relieve Stress and Anxiety,Perfect Size suitable for autism adults and children over 10 years old
Easy To Carry,Small,Simple,Discrete and Fun. Well this is the toy for you
【2017 Upgraded】Colorful Triangle Spinner and Double Fidget Spinner Metal Material New Style EDC Hand Fidget Spinner for High Speed Relieving ADHD, OCD, Anxiety (Rainbow 7)
1 used from $6.08
Free shipping
as of May 3, 2023 10:26 am
Features
Use our Fidget Spinner Toy to help reduce stress, anxiety and symptoms associated with ADD/ADHD, Autism, nail biting, hair twirling and leg bouncing. And also help to increase focus and attention.
PREMIUM ALUMINUM MADE: Higher hardness, shockproof, more durable than ever. The bearing is removable and easy to maintain.
CHALLENGE your friends in a contest to see who can spin it the best, the more you spin the toy the longer it will last. Achieve longer spinner timers and be the record holder! Practice and learn new tricks that will impress your friends!
It was designed to be discreet and durable - perfect for using in offices, classrooms, home.
Satisfaction Guaranteen: We offer a 12 month Warranty and 45 Days 100% Money Back or Free Exchange Guarantee. Please feel free to contact us at any time.
Spinner Squad High Speed & Longest Spin Time Fidget Spinners (Panda)
5 new from $19.99
Free shipping
as of May 3, 2023 10:26 am
Features
Voted Fastest Spinner in the market (has race car bearings)
Voted Longest Spin Duration in the market (3-4 minutes on average spin)
All bearings spin to maximize tricks and performance.
Cute pink panda emojicon design
Fidget Spinner Toy Ultra Durable Ceramic Center Bearing High Speed 5 Min Spins Precision Metal Material Hand spinner EDC ADHD Focus Anxiety Stress Relief Boredom Killing Time Toys
1 used from $20.00
Free shipping
as of May 3, 2023 10:26 am
Features
At least 5 minutes average spinning with one hand or both hands or on the table.
Great for relieve your Stress, Anxiety, ADHD, Autism. Helps you stay focused!
Heavy duty body made of 100% brass material laser CNC with high quality, feel very good gravity, fast rotation.Hardness.
Easy To Carry,Small,Simple,Discrete and Fun,also effective for Focus and Deep Thought.
100% Satisfaction GUARANTEED! Contact us if you have any questions.