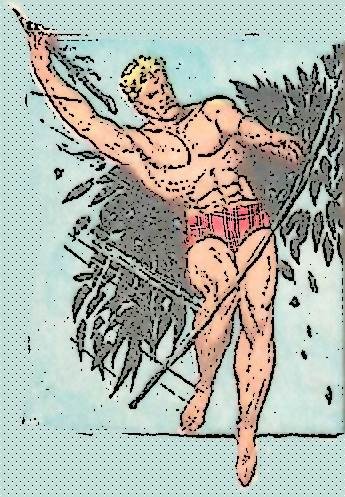 In a time that land forgot, a time when porridge roamed the Earth and man was not meant to fly, an ape happened upon a downed cargo plane bound for Scotland.
Upon that plane were all of Scotland's fruit, vegetables, several charred skeletons … and a baby.
Fascinated by how anyone could entrust a baby with piloting a commercial flight and expect things to pan out smoothly, the ape decided to adopt the wee burn and raise him as its own until such a time when the child could explain the airline's thinking and just how wildly the baby had exaggerated upon his resume to land such inappropriate work.
The ape never got that explanation, however, as the child developed a thick Scottish accent from cigarette packets a shortcake cookie tins also among the wreckage of the cargo plane.
The ape, like many outside the highlands, simply couldn't understand its hairless pink son. Nevertheless, the ape was a good parent, and the child with a diet almost exclusively consisting of fruit and veg grew up to be one of the strongest, healthiest Scotsmen the jungle had ever seen … The legend known as
Join us now as we accompany Tartan on his debut adventure ….
TARTAN AND THE DISAPPOINTING THEME PARK OF DEATH …  AND PROMISE OF BACON THAT WE NEVER GET TO SEE !!!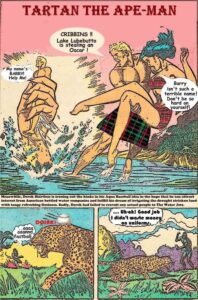 ( Click the comic and click again to enlarge it some more …. oo-er )