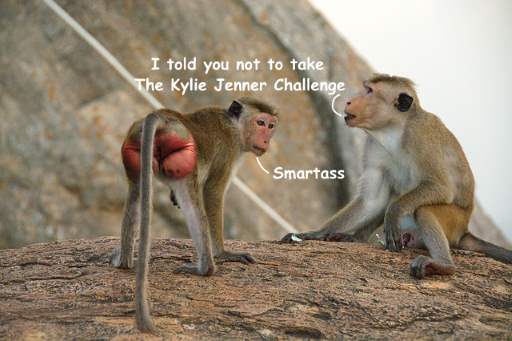 Everyone Is Looking For The Next Big Thing
And that next big thing is LIPS.
Kylie Jenner's lips.
They are the best lips in the world. Unfortunately, the Keeping Up With The Kardashians star is not selling them. So the best the rest of we mere mortals can hope for is to emulate this pinnacle of beauty. Only then will all the problems we face in our lives magically solve themselves. What else can we do? We are trapped between plump lips and a hard face.
These are the lips that launched a thousand clips … and we must have them … Right kids?
But how can we afford a cosmetic procedure like this?
Once upon a time threatening to give someone a fat lip was viewed as a negative rather than a cosmetic boon inspiring the response, " How much do I owe you? "
Fortunately ( …er … I think. ) the answer is nothing.
And the low cost is the real beauty of this lip plumping technique … because the result sure isn't.
However, if you are still undaunted, here is what you need to participate in …
The Kylie Jenner Challenge ….
1. Too much time on your hands.
2. Peer Pressure.
3. Some unwanted dignity.
4. A small cup or glass.
5. Suction.
6. Some ice ( probably ) and your doctor on speed dial.
With this kit teens across the world have been positioning a small cup or glass over their drab life hampering normal lips and sucking.
The resulting partial vacuum inside the cup ( or glass ) forcibly draws the lips into the cup ( or glass ) causing them to swell due to bruising and small tears in the tissue resulting ( ideally ) in plump celebrity life changing lips usually only possible through cosmetic injection.
But what actually happens is the following as explained by UhOhBro ….
If you must do this ( and we  can't recommend that you do ) perhaps you should follow this young lady's technique …
https://youtu.be/1BVaOhSDZJY
Police are warning the public that the small cup or glass remains at large and, if seen, should not be approached with your lips.