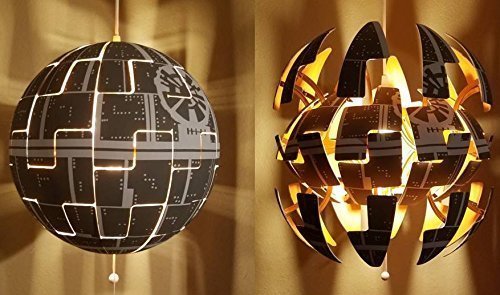 In the words of Chewbacca, AAARARRRGWWWH! It's May 4th… aka Star Wars Day. The first organized "Star Wars Day" event took place in 2011 at the Toronto Underground Cinema and we've all been geeking out on May 4th every since.
In celebration of all things George Lucas and Disney, we compiled a list of a few of our favorite Star Wars gifts for him, Star Wars gifts for her, Star Wars gifts for everyone! Buy them, you will.
Exploding Battle Station Lamp Hand Painted 20"
as of January 13, 2023 11:24 pm
Star Wars Han Solo 12L 3D Mini Fridge
as of January 13, 2023 11:24 pm
Features
OFFICIALLY LICENSED-Star Wars Han Solo 3D Mini Fridge
Last Note: This Fridge heats and cools and can be plugged into your car!
GEEK LIFE ENHANCED This Star Wars mini fridge set you apart from all the rest, you have arrived
Check out the Lighting Function and Grab yours Today While Supplies Last!
FOR WONKS- What is a 'Wonk'? Someone who is passionate and knowledgeable about their interests in.
Star Wars Rogue One Death Star Popcorn Maker - Hot Air Style with Removable Bowl
3 new from $59.99
Free shipping
as of January 13, 2023 11:24 pm
Features
HEALTHIER CHOICE - Uses hot-air popping method so no oil required. It makes popcorn a perfect snack for the whole family.
EASY OPERATION - Add kernels into the main chamber using the provided measuring cup, turn on the unit and watch the magic happen through the transparent cover!
HIGH EFFICIENCY - Pops evenly and quickly, with up to a 98% popping rate. Unique channel ensures constant hot air to pop about as quickly as a microwave (2-3 minutes).
EASY TO CLEAN - Wash the removable popping chute, cup, and lid with soap and water and clean the outside of the machine with a damp cloth, if needed.
THATS NO MOON - Top cover doubles as a serving bowl; Just remove from the base and flip it over.
Star Wars #1 Dad Darth Vader Father's Day T-Shirt
as of January 13, 2023 11:24 pm
Features
Officially licensed
Adult sizes
Cotton
Star Wars TIE Fighter Gas Grill
out of stock
as of January 13, 2023 11:24 pm
Features
Model #: SW-2201
Color: Black
Electronic ignition device
Cast Aluminum Removable & Adjustable side shelves
Cooking Area: 220 Square Inch
Cool Millenium Falcon Metal Bottle Opener
out of stock
as of January 13, 2023 11:24 pm
DBKay Light Up LED Lightsaber Chopsticks Set, 2 Pairs - Red, Blue Battaries Included
out of stock
as of January 13, 2023 11:24 pm
Features
【FUNNY AND ATRRACTIVE FOR ANY MEAL】: It will light up your hanging out with loved ones and makes your date memorable. Pull the attention at any local or international restaurant. It makes friends jealous when you pull out your chopsticks at the restaurants
【BRIGHT ILLUMINATING LEDS】: With a simple push of a button on the highly detailed lightsaber hilt (Jedi not required) the "blade" glows bright color so you'll never have to eat in the dark
【EXTENSIVE DURABILITY】: Our chopsticks are made of thick plastic material which are durable and easy to clean. These chopsticks are much more durable than other chopsticks and have nice small swirly design and tapered end for easy food pickup.
【PERFECT DESIGN】: On the top of these chopsticks we adopt passivizing treatment to avoid injuries, and thread design on upper part can make you hold them easier and more comfortable. It's ideal for any Asian-style dinner party, Sushi Night and any Asian features party.
【VALUE】: Our chopsticks has lightweight which is easy to carry. It's a great idea for travelling. It has heat insulation which can help you eat hot food. The chopsticks aren't heavy or awkward, and the etched bands for gripping food is very useful