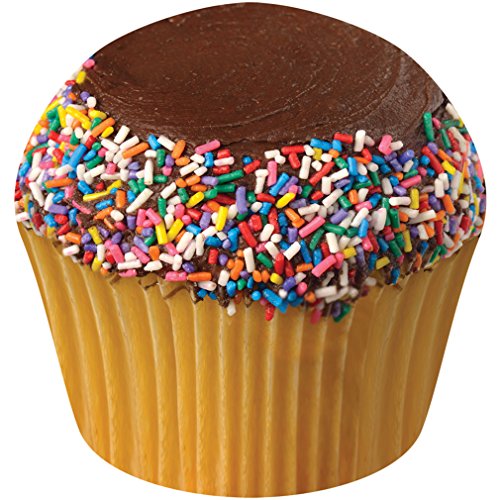 WARNING: Do not eat these pillows. Giant cookies and cupcake
iscream Chocoholic! Chocolate Scented Candy Chip Cookie Microbead Pillow
as of September 27, 2023 8:47 am
Features
There's always room for one more fun, bright, comfy, crazy throw pillow - especially when it's as fun as this chocolate-scented treat of a pillow
This full-color, photo-real print pillow is shaped just like a big candy chip cookie, smells as yummy as it looks and is ready to liven up any space
Best of all, this pillow isn't just fun to look at - this softy is filled with microbeads that move with you making it super comfortable and squishy!
The perfect combination of colorful fun, to-die-for design, quintessential quality and cozy comfort - just what you expect from iscream!
Sizable pillow measures 13" high and wide and features a photoreal print on both sides
iscream Sugar-riffic! Donut Shaped Microbead Pillow
2 new from $35.00
1 used from $32.21

as of September 27, 2023 8:47 am
Features
There's always room for one more fun, bright, comfy, crazy throw pillow - especially when it's as fun as this bold and bright treat of a pillow
This full-color, photo-real print pillow is shaped just like a donut with frosting and sprinkles galore that's ready to liven up any space
Best of all, this pillow isn't just fun to look at - this softy is filled with microbeads that move with you making it super comfortable and squishy!
The perfect combination of colorful fun, to-die-for design, quintessential quality and cozy comfort - just what you expect from iscream!
Sizable pillow measures 16" in diameter; PLEASE NOTE: The images show both sides of this pillow - one side is pink frosting, the other is chocolate frosting
iscream Sugarlicious! Vanilla Scented Celebration Cupcake Microbead Pillow
as of September 27, 2023 8:47 am
Features
There's always room for one more fun, bright, comfy, crazy throw pillow - especially when it's as fun as this vanilla scented treat of a pillow
This full-color, photo-real print pillow looks like a yummy frosted cupcake, smells as sweet as it looks and is ready to liven up any space
Best of all, this pillow isn't just fun to look at - this softy is filled with microbeads that move with you making it super comfortable and squishy!
The perfect combination of colorful fun, to-die-for design, quintessential quality and cozy comfort - just what you expect from iscream!
Sizable pillow measures 15" high x 12" wide; PLEASE NOTE: The images show both sides of this bi-colored pillow - one side has green frosting and the other side has blue frosting
Pillow Pets 18" Sweet Scented Strawberry Sloth Stuffed Animal Plush Toy, Multicolor
out of stock
as of September 27, 2023 8:47 am
Features
SWEET SLOTH-TIME! Sweet Scented Pillow Pets deliver the scent of yummy sweet treats in a plush you can hug. Strawberry Sloth has a scent patch that smells like strawberries - it's BERRY delicious!
COMFORTING COMPANIONS: Pillow Pets presents super soft, cute, & adorable stuffed animals that unfold into fuzzy pillows for sleep. Kids, teens, & adults love these classic & collectible comfy critters.
TRAVEL FRIEND: This plush is a pal in the day & unfastens to become a comfortable pillow at night. It's a comfort for any child on road trips & airplanes, & is fun as boy & girl bedroom decoration.
BEST BUDDY: This original toy for children ages 0+ unfastens into an 18in large pillow for reading, studying, play, & nap time. It's a cozy creature that's surface washable and BPA & Phthalates free.
OFFICIAL PILLOW PETS: Scents are made in the US from sustainably harvested trees or cotton, & are certified by the International Fragrance Association, & are compliant with US & EU Toy Regulations.
Smillows - Scented Stuffed Plush Pillows (S'Mores Marshmallow) - Accent, Throw, Decorative Pillows - Kids Room Decor, Gift for Kids by Scentco
2 new from $24.99
Free shipping
as of September 27, 2023 8:47 am
Features
Smillows are super soft accent throw pillows with gourmet scented microbeads sewn right into the stuffing
These unique scented pillows look great on beds, couches, kids play areas, and wherever else you need extra cuteness
Scent-sational stuffed animal style plushie that never fail to brighten up the day and stimulate the senses
Scents last up to two years and come in vacuum sealed plastic
Squishmallows Official Kellytoy 5 Inch Soft Plush Squishy Toy Animals (Maya Mint Ice Cream)
as of September 27, 2023 8:47 am
Features
COLLECT THEM ALL- many characters all sizes choose from!
PERFECTLY SIZED SQUISHMALLOWS- These soft plush stuffed animals are warm cuddly fun and the right size for taking with you wherever you go.
SUPER SOFT - Made from incredibly cozy- polyester fiber, these squishy toys have a marshmallow-like texture thats pillow-soft.
Everyone loves Squishmellows plush toys & soft stuffed animals. Fabulous bedroom, dorm room, living room decoration. Cute plushies incredibly soft toys are perfect for playing, collecting & cuddling
SQUAD UP Grow your Squishmallows Squad with Courtney, a super soft, collectible plush!