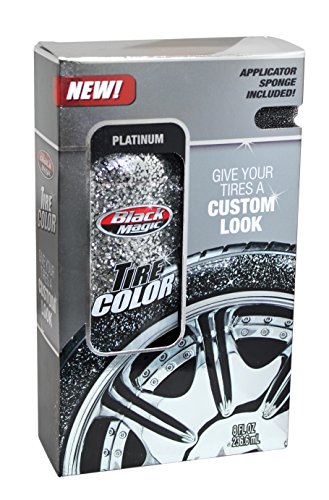 Nothing says, "I'm a rich b*tch" like a blinged-out car. Customized license plate frames, iced-out auto accessories, and cute car seat covers in luxurious prints are just the tip of the ostentatious iceberg. For starters, no one will steal your car if you cover it in gaudy, shimmery goodness- mostly because it will stand out like an infected thumb on the freeway. It's also a way to let everyone know that you're really, REALLY into shiny things, like an adorable cat or baby. For a truly customized blinged-out ride, check out our favorite glittery car accessories below!
Black Magic 120024 Tire Wet Silver Spray, 8 oz.
out of stock
as of September 9, 2023 5:30 am
Features
Silver glitter shine that can last for weeks
Nonpermanent, washable tire coating
Easy-to-use applicator included
Will not harm tires
Remove easily with Bleche-White tire cleaner (not included)
Some Girls Are Just Born with Glitter in Their Veins Vinyl Decal Sticker
as of September 9, 2023 5:30 am
Features
High quality vinyl that can be removed with no damage or residue
Size : 7 inches tall x 3.6 inches wide
Made in the USA - Color: GLOSS WHITE DECAL
Installation instructions are included
Officially licensed JS Artworks product! MADE IN THE USA!
Mini-Factory Bling Crown Chrome Tire Valve Stem Caps Rhinestone Tire Caps for Car and Motorcycle (Clear)
out of stock
as of September 9, 2023 5:30 am
(3 Pack) Silver Crystal Car Bling Ring Emblem Stickers, Rhinestone Ignition Starter Bling for Buttons Keys & Knobs, Interior Crystal Car Accessory, Unique Gift For Her, Bling Car Decor (Silver)
as of September 9, 2023 5:30 am
Features
Interior Car Decor - Crystal Bling Ring Sticker Emblem - Package Includes 3 Silver Bling Rings
Universal Fit On Key & Button Ignitions, Cars, Trucks & More. Made with Premium Crystals, Durable Metal & Strong Hold Adhesive
Easy to Apply With Included Adhesive Tape Backing - Will Not Fall Off - Instructions are included
Also For Use On Other Knobs, Buttons, Steering Wheel, Stick Shifts & More
BUG HULL Bling Bling License Plate Frame (2 Pack) for Car / Truck / Vehicle, Handmade Waterproof, 2-Holes Stainless Steel Plate Frame & Matching Anti-thift Screws (Clear-02)
out of stock
as of September 9, 2023 5:30 am