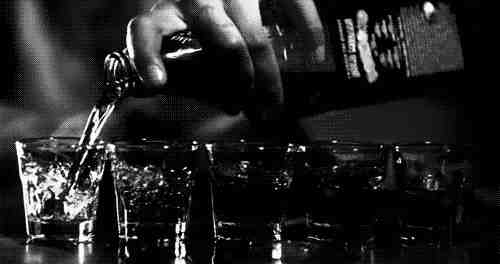 Welcome back to another season of the college life!
On a college campus, Thursday isn't just an ordinary day, for some reason everyone is thirsty. The night of ever Thursday is a bit histaicle and well… Interesting.
Classes are over Thursday night by 8 pm, and all around campus, in Fresh, Topper cafe, and Garrett Food Court  are closed and deserted by students. The lights pathway lights grow bright on the campus as students walk to their cars and outside of Pearce Ford Tower for a night of smoking and laughing till the early hours of the morning. Then it happens. The zombies appear.
Ah, beautiful, isn't it?
In the distance you can hear them, the rowdy college students and their booze.
The sound of loud music and loud laughter is almost ear deafening! Some don't even realize that they aren't here anymore:

(usually the second one)
The sounds of car doors slamming,
girls stumbling out in their drunken mess, pulling down their skirts, trying to hold their drinks and balance all at the same time, with only the parking lot light to guide them. Their dates get out on the other side, trying to help them, but unable to hold the last shot, stumble to a bush and puke up the vodka and coke from thirty minutes before.
The zombie students walk up
the path to the dorms sometimes dare footed, holding their heels or chuck taylors on one hand and their student IDs in the other. Insane how they can keep their balance, and hold vomit in their mouths for all of 20 seconds: Get in the building, Show ID, get on the Elevator and pray to the stars that they don't smell the Vodka and Booze from the sketchy bar right off campus.
The conversations held by the vampires are very intelectual, speaking about what bar they'll attend next, crying because "Jacob was my one and only!" and :I messed up man, I loved Samantha!" With the occasional black out drunken vamps who have had one too many bloody shots! Climbing on the statues and making out when everything that walks.
I've lived next door to one of these zombies,
and when they bring home a.. uh… well.. a 'mate'. There is no sleep. Rather that be from making another one of these zombie people, or from vomiting.
One person on my floor got so zombified, her roommate had to take care of her, and lets just say all of us 40 girls used the bathroom on different floors from the vomit projected from this zombies body.
Boy oh boy I wish i could see more of the males, the way they treat each other. Hanging on one another for support as they walk across campus, and what a spectacle it is to see a group of them! Hanging on one another, and stumbling up the hill to their cars or rooms.
Luckily, I wasn't roomed with one, I was roomed with a sorority girl. More on their stereotypes and insane obsession with dancing, Ryan Gosling and pink next time.
Keep it classy college students.
Drink responsibly