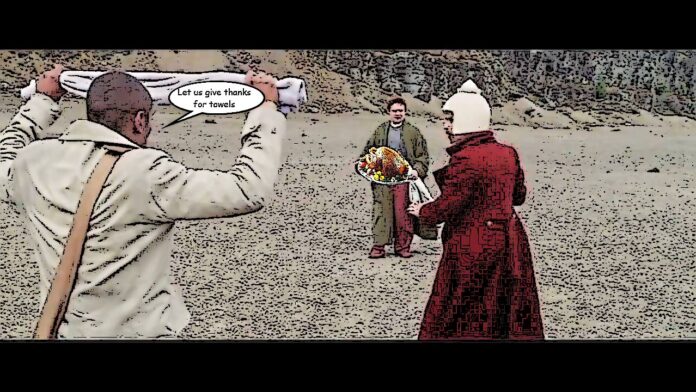 October was a BIG month…
but November isn't exactly empty. The 'No' in November doesn't stand for,  "There's nothing going on. "
Already we have celebrated Author's Day, Deviled Egg Day and Use Your Common Sense Day.
November 3 was Zero Risk Day
which immediately begs the question, " How do you celebrate that ? " It was also Sandwich Day, which was the day I chose to celebrate. You could, I suppose observe both days by purchasing your favorite sandwich and then not risk eating it … but I think celebrating one day or the other is best.
November is also Vegan Month.
Don't Panic! Vegans are not the insufferably dull and bureaucratic race of aliens, from The Hitchhiker's Guide To The Galaxy, famed for terrible poetry about salad. No! Veganism is the abstinence of all animal products, especially with regard to diet. November is the month you can celebrate this.
You may now resume panicking.
Remember remember the fifth of November ?
I hope so, as it was yesterday. It was also a notable calendar date in the United Kingdom as you could let off a lot of fireworks. It was, of course, was Guy Fawkes Day or 'Gun Powder Day' which was presumably renamed so that children everywhere don't get too confused as to why there is such a big fuss over the guy who invented cutlery.
Guy Fawkes did not succeed with his explosive cutlery shenanigans ( probably because it was raining ). It is not the way to get your point across, even if you have invented something with several of them.
There is a theme to celebrate every day this month if you wish to ( Today, for instance, is both Stress Awareness Day and Saxophone Day. Good to know if jazz creeps you out. ) 
but for me, aside from terrible salad poetry, November is the month that we give thanks for all the blessings that we are fortunate to have bestowed upon us.
November means Thanksgiving.
It may not be a holiday for tricks, treats or exploding cutlery but taking the time to appreciate family and community makes November one of my favorite months.
Also, there is a lot to eat.
Footnote : Guy Fawkes did not really invent cutlery.