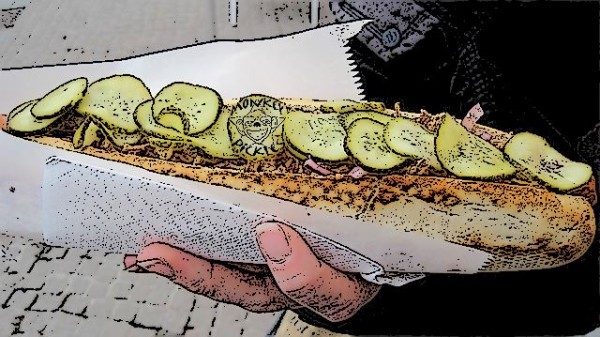 Are you out to lunch?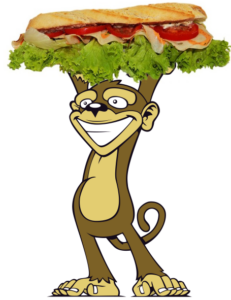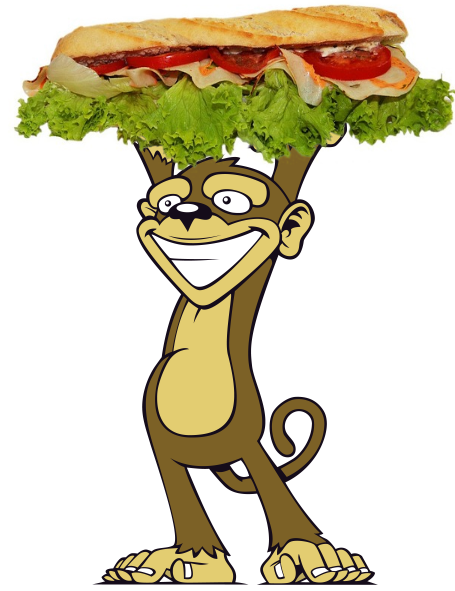 … and want to try something different?
Y'know, like the time you ran into Wendy's wearing only a novelty prophylactic and shouted, "Did anyone ask for a condom mint?"
That didn't work out so well and now you have a new job … but e
very occasionally you have to throw caution to the wind and take a bold step away from the Monkey Pickle endorsed Ham Sandwich.
So here are a buffet of edgy sandwiches ( What? … Sandwiches have edges. )  you might want to challenge your local Subway operative to make.
But if they meet that challenge, run away … run away quite quickly.
~~~~~~~~~~~~~~~~~~~
Self explanatory, really. If you try to eat a sandwich that knocks your teeth out, how do you eat it? And trying to suck a sandwich up a straw really isn't worth the trouble.
2. The Pig Knuckle Sandwich.
~~~~~~~~~~~~~~~~~~~~~~
Not dissimilar to entry 1. in our list but far more organised and difficult to avoid. Not merely because it's so tasty but also because it was the favorite means of enforcing the porktection racket, run by the Hog Father, that terrified the deli owners of New Pork. Eventually gang tensions culminated in a climatic battle between the pigs, Daniel Day-Lewis, dinosaurs ( why not )  and giant transforming Japanese robots disguised as luncheon meat slicers ( which hadn't been invented yet ), in the capital of India ( for some reason )
and decimated The Gangs Of New Pork. As authorities literally mopped up afterwards, bacon was discovered and America was built.
3. The 4th Earl  Of Sandwich.
~~~~~~~~~~~~~~~~~~~~~~
AVOID THIS SANDWICH!!!
If you have not successfully avoided this sandwich, you are trapped in the 17th century and probably have syphilis. ….. Bad luck there.
4. The Ron Jeremy Foot Long
~~~~~~~~~~~~~~~~~~~~~~~
The administrators of Monkey Pickles have requested that I do not describe this sandwich.
5. The Swingers Sandwich
~~~~~~~~~~~~~~~~~~~~
This sandwich SEEMS exciting but it's more complicated to put together than you realize, usually ends up limp, is gone in seconds and rarely satisfies you. Additionally, it is often a bad idea to let neighbors help you make it, it is not suitable for a picnic or a wedding buffet … and it is very difficult to know what is mayonnaise.
6. The Wicked Sandwich Of The West.
~~~~~~~~~~~~~~~~~~~~~~~~~~~~~~
If you live on the west coast and your name is Dorothy, then move ! … Seriously ! … 'Cause this freaking crazy sandwich is after your red shoes. 
I mean, what does a sandwich need heels for ???? That's how bat crazy she is !  You'll literally have to drop a house on her to stop her.
And talking about bats …….. A monkey shouldn't do that …. It's weird man …. Just freaking weird ….
7. The Seven Year Sandwich
~~~~~~~~~~~~~~~~~~~~~~
This is clearly passed its best before date. You should leave it alone, its not going to make you feel any better.
8. Erin Brocksandwich
~~~~~~~~~~~~~~~~~
a ) This is obviously a person. We shouldn't eat people … It is generally frowned upon.
b ) Are you sure you want to take the risk ?  " By the way, we had this sandwich brought in special for you folks. Came from a deli in Hinkley. "  
~~~~~~~~~~~~~~~~~~~
C'mon! …. It's got blades in ! … You're not that daft are ya ????
10. Sandwich Davies Jr.
~~~~~~~~~~~~~~~~~~~
It was rumored that this talented legendary sandwich would  make your taste buds sing if you ate it … but no one ever tried for fear of incurring underworld reprisals from The Wrap Pack.