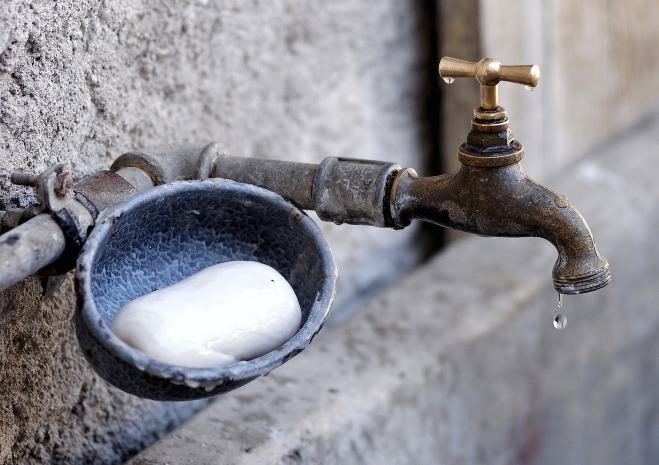 From The Ministry Of Useful Objects
It has recently been brought to our attention that there is a product out there called "hand sanitizer" that is being reported as a miracle cleanser and which can be used in a wide array of applications with surprising results. The Ministry, which has in the past helped the public with other useful items in their daily lives such as Dr. Schilling's Health Tonic and Buster's Suction Cup Shoes, hopes this memo will assist you in making the most of this latest addition to your cleaning arsenal.
What Is Hand Sanitizer For?
Basically, it will remove anything you can possibly imagine from the skin of your hands. Washing your hands simply kills germs, something which can't be seen with the naked eye. Therefore, the existence of germs cannot be independently verified. Hand sanitizer has been tested in the homes of Basillicallumberra for more than a century where the inhabitants store barrels of it for quick and easy use on a daily basis.
Paint
When you've been painting all day long and have those little spatters of color stuck to you everywhere, a gallon of hand sanitizer applied with one of those green scrubbies you keep over the sink will do an admirable job of erasing the unwanted tint from your skin. It may also remove most of your skin, but don't worry about this! Skin grows back, as we all know.
Glue
You could spend your morning peeling the thin layer of glue from your fingers after helping your child with an art project. Or with the help of hand sanitizer, it could come off in a pleasant puddle of goo after rubbing your hands together briskly. When used in this way, hand sanitizer usually also begins to glow a fluorescent yellow. The Ministry believes this is simply radiation releasing into your body, and there is no cause for alarm.
Why Is It Called 'Sanitizer'?
After extensive research, we've determined that the etymological basis of the word can be broken down into three elements: "san," from the Latin "sans" meaning "without"; "ite," referring to being of a country or nation; and "ize," meaning "to become." When combined, these loosely translate to "Without becoming a country." In 1877, Basillicallumberra struggled to separate from its ruling nation of Simsampathna and failed. Thus, we believe the region dubbed this product "sanitizer." It's pretty obvious.
Refreshing And Pleasantly Scented
There's a large variety of the stuff now that has been treated to smell like many other items in your household, making it an easy bottle to match with your decor. The Ministry recommends Wet Dog varieties for most citizens in this area, due to the smell of the local air.
Nasty Taste
When worried about pets and children sampling products, it's good to know that hand sanitizer has such an awful flavor that a very small taste should cause any curious mouths to avoid it at all costs in the future. That's reassuring!
Ink, Dirt, Oil And Other Sticky Stuff
As the sanitizer seems to be fairly innocuous, feel free to use it when attempting to remove anything that has adhered to your fingers and palms. No matter how much you apply, it really won't dry out your skin, so repeated applications are just fine. It may take a bit of time, but when you can buy it in such huge quantities, who cares?