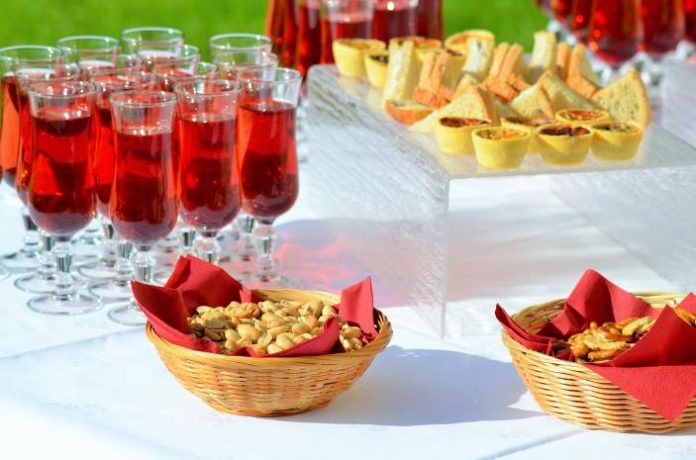 You're engaged! It's time to plan the wedding. No problem, right? Ha! If you're in the midst of arguing about what to serve at your reception, stop right there and let us save your marriage.
No more stressing over fish or chicken or beef (and what to offer those pesky vegan and gluten-free friends). Just take these suggestions and run with them.
Candy
Who doesn't love candy? You do, don't you? It's your day and it should be fun. And it's an objective truth that nothing is more fun than candy. Serve an appetizer of gummy bears, an entree of chocolate bars, and offer all-day suckers or Dum Dums, depending how you feel about your family.
McDonald's
We all hope that when our guests are eating, we'll satisfy their hunger and make them smile. And McDonald's is sure to satisfy their hunger, at the very least. Everyone loves their fries. And if you get the Happy Meals, your guests can take the toys home with them, so you don't have to bother with party favors.
Ordering McDonald's is cheap, it's easy, and it's one less thing (or two less things! Happy Meals!) for you to worry about. Sure, some people hate McDonald's. They can have a Dum Dum if they have a problem with it.
Bendy Straws
If you don't have bendy straws, you aren't having fun. That's not a wedding rule, just a general life rule. You can't eat bendy straws, but you will want them on your tables. A bendy straw brings smiles! No matter what drinks are served, from wine to beer to soda, a bendy straw just makes it taste better.
So even if the McDonald's isn't very hot when it arrives, the straws will save the day. Note that bendy straws aren't typically offered at high-end restaurants, so take some along on your honeymoon so you can whip them out and actually enjoy the classy joints you'll be treating yourselves to.
Childhood Favorites
If you want to please the masses, why not go retro? Choose some favorite foods from your childhood. Buy a bunch of those cheap frozen pizzas or Kraft macaroni  and cheese. (We recommend using coupons if possible, or maybe asking guests to bring a dollar to cover their dinner. Weddings can get really expensive!)
Ballpark Favorites
If you're feeling too much pressure to host, take the reception somewhere else. We suggest a ballpark. They have lots of room and no one cares if your party is a little noisy. Now, most catering companies probably won't deliver to ballparks. Thankfully, ballparks usually sell food and drinks. Sure, they're a little expensive, but you aren't paying for them! Too many people to keep track of.
Vending Machines
We have all been to a wedding with a cash bar, so why not a cash dinner service? Set up vending machines all around the reception area, and stock them with anything you think your guests will pay for. Maybe even a sandwich machine or two. Make sure your invitations specify to bring cash, specifically lots of singles.
Chinese Fortune Cookies
For dessert, pick up a box of these suckers. You can get fortune cookies in bulk for a great price on Amazon. Way cheaper than offering cake or designer cupcakes.