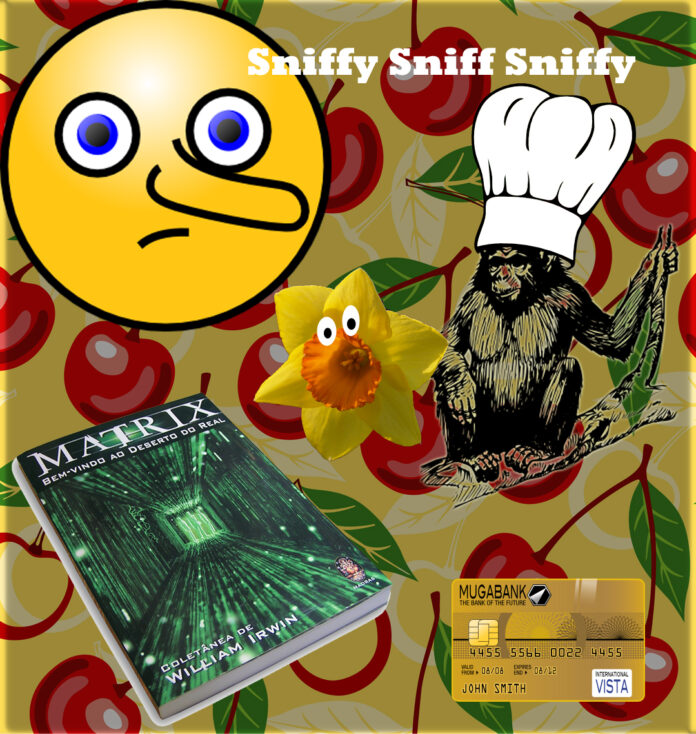 I know some headache sufferers growl at the idea of random smells jumping out at them from random places like the hands of smiley salespeople at their friendly department store. I'm bored so I have decided to offer the simple fix to that problem. I think there should be legislation pushing for more scratch & sniff in the world. Just like juicy monkey pickles, these cards stay wrapped up in their own little world until you monkey around with them. On that wise, I was thinking about 5 things that I think should be scratch & sniff. Maybe if we share these on social media someone will get to work on whipping them out in mass.
1. A Classic Book
I can just smell it now; imagine curling up on your favorite hard wood floor with a salty tart and your favorite scratch & smell classic. Here are some suggested readings. First up, why not try JRR Tolkein's, "The Hobbit" in full odor-o-rama smell. I've got a few ideas about how the Orks might turn your stomach. Orwell's "Animal Farm" would be another great one or how about my favorite in the bunch, Roald Dahl's "Charlie and the Chocolate Factory," oh yeah, bring that one on!
2. Wall Paper
Can't you just see yourself waking each morning to a wall full of flavorful fruit? How about something like a wall papered room featuring fruit trees that you can scratch & smell anytime you like? That would be way cool, especially for jungle-sick kids and other squirrel ninjas who enjoy climbing.
3. Your Favorite Cook book
This is my best idea yet! I mean just think of it, you're at home, bored out of your mind and you are starving. If you had a scratch & sniff cookbook you could pull it off the shelf and have a full course sniff meal without lifting a finger—your stomach won't even have a clue for about 10 minutes. If you are still hungry try to smell a little more the next time.
4. Your Debit Card
Most of us never really see and feel real dollars and cents anymore: for the most part we have gone cashless. So wouldn't it be cool if your debit card could have the smell of a brand new 100 dollar bill? It's rarely all about the Benjamins anymore, but a girl can dream about the green.
5. Fake Flowers
Some folks are just determined to play with and decorate using fake flowers. Random thought here—would if help if they were scratch & sniff? I think it just might. This would work really well for the frugal Casanova who wants to splurge on a bright yellow bouquet of FAKE daffodils. All his boo will have to do is give them a good scratch and bam—she can enjoy their lovely, aromatic, and sprayed on goodness.
Scratching and sniffing is big fun as long as the laugh is not on you. As I think about it there are a whole lot of things I'd enjoy sniffing; but then again, I'm not like other people, I like wearing red leather jackets with zippers too.