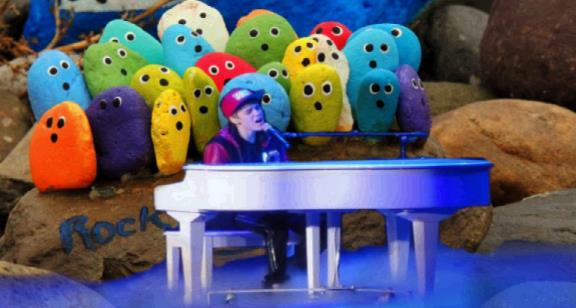 "What did you say?!!…What did you say?!!…Happy Birthday?…Oh…Thank you."
Justin Bieber is 21 years old
And according to statistics Justin is a man. A man now legally allowed to drink for the first time ever. How exciting for him.
Justin celebrated turning 21 and drinking on a private island despite not being in the military. Let's hope he had a good time and didn't swallow anything too salty because there was a lot of confusing sea water about.
Anyhow, here are 21 fact like collections of words you won't believe are true ….
1. Baby Baby Baby
Justin claims he wrote the hit in 1965 when he and Brian Williams were in The Miracles but other sources say that Justin had the idea for the chart topper while singing in front of his bedroom mirror.
2. Stan Lee
Marvel Universe Icon, Stan Lee, was Justin's first True Belieber and got Justin an audition for the role of Johnny Storm. Unfortunately Justin did not get the part as his confused frequent bouts of crying would extinguish the CGI flames.
3. Usher
Justin Bieber was discovered in a cinema by an usher. He was asked to leave as his singing was disrupting the feature.
4. Tattoos
Justin has many tattoos, much like the ceiling of the Sixteen Chapel in the Vatican City where The Pope lives.
5. Hotels
After becoming famous Justin had to leave the lodge he grew up in only to spend much of his subsequent career on the road ironically staying in hotels such as Travelodge.
6. My World
The album went platinum only 3 months after its release, ruining many vintage record players and forcing I Land Wreckords to issue a total recall until compensated fans complained about having to share one Schwarzenegger DVD.
7. Instruments
Justin is able to play the drums, guitar, piano and trumpet but does not use them as often as he'd like as the instruments are frequently full of spit.
8. Martial Arts
When Justin was younger he took karate lessons and earned a yellow umbilical cord.
9. Kids
Justin has been reported as wanting 3 kids … but soon more and more kids started up to his concerts and Bieber became very sad.
10. Animals
Justin Bieber's favorite animal is George The Hastily Contrived Giraffe.
11. Prince
Justin believes that the artist formerly known as Prince is purple.
12. Fears
Justin suffers from claustrophobia and is afraid of granola.
13. Bungalow
The pop star is also afraid of elevators. Any elevators were removed from Bieber's home when he ordered each floor of his residence to be laid end to end at ground level. Also, choreographers are rumored to be instructed not to include lifts in his routines.
14. Superhero
It is alleged that Justin bought an Ironman helmet at 3 am one morning after being threatened with circumcision by a rabbit
15. Australian
Like most Canadians, & Hugh Jackman, Justin is actually an Australian who had to move to the cooler climate due to being 'hot under the collar' & 'blowing up' conditions ( or Russel Crow Syndrome ). Unlike Huge Jackman, Bieber is the correct height to play Wolverine and was up for a similar role in the superhero series, Honey Badger. The pilot never aired as test audiences did not appear to take to a cross-dressing badger hero. Also the make up department went wildly over budget with countless mascara applications being ruined by frequent bouts of confused crying.
16. Clowns
Justin does not like clowns and has not been able to look at himself in the mirror for so long now that he is convinced he features in the Twilight series.
17. Twilight
His misconceptions reinforced after misguided handlers presented him with specially adapted books, Justin believe that the main protagonists in the Twilight series are Team Bieber and Team One Direction. He also believes that Team One Direction are ultimately defeated when they all die from chlamydia contracted from a loose moralled koala bear.
18. Monkey
Bieber once owned a Capuchin monkey as he thought it was qualified as a barista and could make tiny coffees.
19. Eggs
Justin is unable to count eggs. Bieber buys so many eggs that periodically he distribute large numbers of eggs around the neighborhood or else be forced to live in just one room of his mansion …. a room that isn't even the kitchen.
20. Accents
French, English and Australian are Justin's favorite accents but he can't choose between them and has combined the three into one accent he calls Frenglian.
21. Rapping It Up
In an effort to move further away from his 'nice boy of pop' image, Justin was proposing to reinvent himself gangam gangsta style as edgy rapper, 21 Cents but abandoned those plans after haters commented that he did not have a lot of cents.
Bonus Round
Justin has tried his best to connect with fan from the difficult world of celebrity only to have his efforts hijacked by haters. When he asked fans which country he should tour next, the result of the competition was North Korea and as for what direction his career should move in now, some have suggested Space.
Nevermind JB, at least you are disgustingly rich.