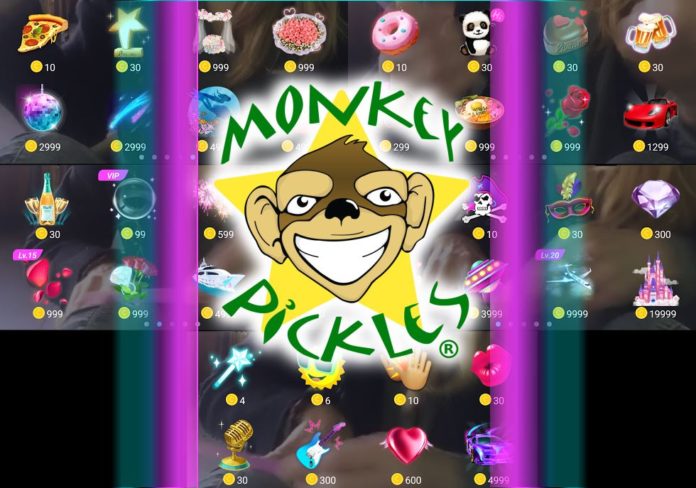 Monkey Pickles Is Celebrating 30 Days On Live.me With A Giveaway!
Enter to win Monkey Pickles Gear, Live.me Gifts, Social Media Shout-Outs, Featured Blog Articles about YOU, Personalized Gear and MORE!
Contest will run from Friday, June 2nd starting at 2 PM CST (MN -6), with drawing being done Saturday, June 10th at 6pm CST (MN -6)
HOW TO ENTER:
You must have a Live.me account (if you don't have one, get one HERE)
Join the ?Monkey Pickles? broadcast when we are LIVE
Give Virtual GIFTS to be entered for PRIZES!
1 Entry for every 100 coins
Gifts of 4999 coins or GREATER automatically receive prizes (promotional items, gear, shout-outs, Live.me gifts, and MORE- details below!)
Gifts of 299 – 3999 can be given for multiple entries at a rate of 1 entry per 100 coins (example: A Porsche = 1299 coins, you receive 13 entries)
Gifts of less than 100 coins each need to be given in a continuous streak stack (Gifts must be all the SAME GIFT ITEM. ONLY the following gifts of less than 100 coins will be counted toward an entry):

Wand (x25)
High Five (x10)
Live.me Star (x3)
Cheers (x3)
Grand Prize:
An Official Monkey Pickles Hoodie + T-Shirt
Click Links To View!
Monkey Pickles T-Shirt – Men's
Monkey Pickles T-Shirt – Women's
Monkey Pickles Hoodie
Boss Up Gifts
Want Gear, Shout-Outs, Social Promotions, and MORE? Walk the Green Carpet with our BOSS UP GIFTS!
Give a BOAT OR ABOVE GIFT to skip the giveaway and automatically WIN Monkey Pickles Swag as a VIP (Very Important Pickler):

Boat (official Monkey Pickles t-shirt!)
Super Car (official Monkey Pickles t-shirt!)
Boxing (official Monkey Pickles t-shirt!)
Sea World (official Monkey Pickles t-shirt!)
Plane (official Monkey Pickles t-shirt PLUS an in-app Live.me virtual Porsche!)
Castle (official Monkey Pickles Hoodie PLUS an in-app Live.me virtual Disco Party PLUS a Social Media Shout-Out that will be seen by thousands!)
Super Castle (official Monkey Pickles t-shirt PERSONALIZED with user's screen name and profile photo + official Monkey Pickles hoodie PERSONALIZED with user's screen name and profile photo + official Monkey Pickles Mug + Social Media Shout-Out + Q&A Interview and Blog Post for YOUR brand/image + You will be FEATURED in our monthly newsletter!)