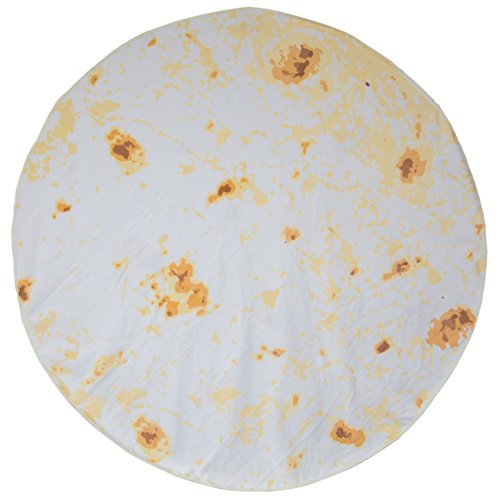 It's Spring Break around these parts, so we thought we'd track down some sweet beach towels for all your ocean/pool/bathtub/puddle fun. What's something we love even more than the beach? FOOD! Because food makes pretty much everything better. Here are a few of our favorite food beach towels, including this amazing Tortilla Towel.
Top 3 Reasons you Need a Tortilla Towel
Your friends already call you "Chipotle."
You've always wanted to snuggle with a doggy burrito.
Lay down tortilla towel. Lie on top of tortilla towel. Cover up with second tortilla towel. Instant tostada.
Burrito Blanket, Be a Giant Human Burrito, Tortilla Towel
as of May 26, 2023 7:51 am
Features
THE ORIGINAL Burrito Blanket that started the craze on Reddit
PRINTED ON BOTH SIDES: Super soft and plush tortilla blanket, keeps you warm during winter months
IT'S GIANT! 5 feet diameter, roll yourself up or with a friend
HEMMED EDGES for comfort and a nice finishing touch
FUN AT PARTIES, the beach, picnics, camping or just lounging on the couch
Crispy Bacon Towel
out of stock
as of May 26, 2023 7:51 am
Features
This extra, crispy Bacon Towel is well done and ready to wrap around you like a living pig in a blanket.
The Bacon Towel makes a sizzling gift for any bacon lover.
Measures a full 72-inches by 26-inches.
100% Cotton
Pizza Towel - round beach towel with pepperoni print
out of stock
as of May 26, 2023 7:51 am
Features
Pepperoni Pizza print - oversized ROUND towel
Ships in an actual Pizza Box
Great unusual gift idea
100% cotton
Perfect for the beach, bath, or picnics
Watermelon Towel - round beach towel with watermelon print
out of stock
as of May 26, 2023 7:51 am
Features
Material: Polyester
Size: approx. 150*150cm
Not not just a gorgeous beach blanket! Use it for an outdoor park picnic, a yoga & meditating mat, a beautiful indoor/outdoor throw, a towel to relax on, a décor piece, a wall hanging, a tablecloth & more
100% brand new and high quality
Washing Instruction - Gentle Hand Wash Separately In Cold Water Only