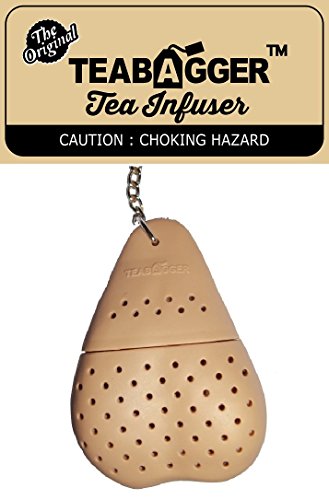 It's April Fool's Day again, and THAT means April Fool's pranks are back in full swing. April Fool's Day is one of our favorite holidays at the Pickled Nickel, because we simply love pranks and gag gifts. The word schadenfreude explains April Fool's pranks pretty well: it means "pleasure derived from the misfortune of others." It sounds harsh, but pranks are like gag gifts; it's all in good fun and meant to promote belly laughs and memories!
A well-placed fake turd, resetting alarm clocks, plastic ants, and judicious use of food coloring are great pranks for April Fool's Day, but we're going to broaden your prank horizons with some new stuff to terrorize your unsuspecting prank victims! Here are a few of our favorite prank and gag gift items to spoil your family and friends with.
The TeaBagger Tea Infuser Funny Adult Gag Gift Novelty Gifts For Men and Women Stocking Stuffers
1 new from $ 14.95
1 used from $ 11.61
Free shipping
as of April 26, 2017 1:23 am
Features
GOT BALLS? Check out the The Best New Gag Gift for 2017 - The TeaBaggerTM Tea Infuser.
The TeaBaggerTM is great for funny gag gifts, stocking stuffers and bachelorette party gifts. Perfect for Prison Break fans
Easily insert regular tea bags, no loose leaf tea needed. This infuser is not just a gag gift; it actually makes tea.
The TeaBaggerTM Tea Infuser is dishwasher safe, easy to clean, made from 100% food grade silicon and has a stainless steel chain with a hook.
Its lifelike shape was inspired by Michaelangelo's Statue of David. Perfect to give to your friends as fun gag gifts, sex gag gift or an April Fools Day gift. It's fun to touch too. Design patent pending.
Ship Your Friends an Embarrassing Box Prank: MicroPenisCure. We Mail Your Target a Hilariously Labeled Package to Make Them Cringe. Great Gag Gift & Practical Joke. Guaranteed to Mortify & Offend!
as of April 26, 2017 1:23 am
Features
IMAGINE THEIR WINCING FACE when the mailman hands them this package or the mail guy at work walks this to their desk. It'll be glorious! MUAHAHAHA
APRIL FOOLS 24/7. We believe the world needs more friendly mischief in it. Like Gandhi said, "Be the change you want to see in the world." So we send prank micropenis packages. And YOU CAN TOO!
TOTALLY ANONYMOUS OR LEAVE A NOTE. Choose "This is a Gift" during checkout and leave your note. We'll print it and include it in the package so you can taunt your victim.
UPGRADE TO MAKE THEM SIGN FOR IT. Choose Expedited Shipping to upgrade your prank and make them sign for the package. They'll have to sit there signing a slip while the mailman silently judges them.
WE MAIL IT DIRECTLY TO THEM, so make sure you put in your target's name and address, unless you really enjoy pranking your future self. No backsies if you send it to yourself!
WTF Candles Scent Changing Prank Candle, Fresh Roses to Sweaty Butt Crack, 6.3oz, Perfect April Fools Day Prank
1 new from $ 14.99
Free shipping
as of April 26, 2017 1:23 am
Features
Prank Candle smells great for the first 1-2 hours of burn time, then suddenly smells awful. 40 total hours of burn time, if you can stand it!
Scent changes from Fresh Roses to Sweaty Butt Crack. 6.3oz
Candle is packaged in a box that indicates it is a prank candle. Remove box and gift to your frenemy in the nondescript tin.
Perfect for April Fools, a White Elephant Gift, a Housewarming Gift, or any time you're looking for a laugh.
Prank Pack Sizzl
3 new from $ 6.95
1 used from $ 6.39
Free shipping
as of April 26, 2017 1:23 am
Features
Gift box appears to contain ridiculous products from clueless companies
Just pack your real gift inside, sit back and watch the expressions
6 sides of real graphics and jokes will have everyone passing it around
Size: 11.25 x 9 x 3.25 (About the size of a giant phone book)
Fake Parking Tickets - Pack of 100
2 new from $ 14.49
Free shipping
as of April 26, 2017 1:23 am
Features
Set of 100 Realistic Looking Fake Parking Tickets
Printed on High Quality 16PT Paper
The Parking Tickets Have Multiple Selections and Options on the Back with a $100 Fine
Writable Area for the Offenders Vehicle
Made in the USA!
The Advanced Pack Practical Joke Prank and Gag Gift Set
5 new from $ 34.95
Free shipping
as of April 26, 2017 1:23 am
Features
This Advanced Practical Joke Kit features a whopping 26 items total and arriving in our signature Prank Nation box.
Includes everything your prankster needs for practical jokes, gags, gifts, prank toys and hours of hilarious fun!
Includes Jumping Candy, Fart Horn, Bug Ice Cube, Money Snatcher, Fake Bullet Hole, Nail Thru Finger, Coin Trick, Squirt Ring, Auto Scratch, Trick Dice, Creepy Ants, Exhaust Whistle, Trick Nail, Squirting Toilet Seat, Rubber Tip Pencil, Glow Maggots, Cockroach Chewing Gum, Fake Cola, Horrible Ketchup Spill, Zombie Teeth, Hand Buzzer, Fake Dog Turd, Secret Message Pen, Prank Prank Ketchup/Mustard and more!
Cigarette and Cigar Free - NO smoking, cigarette or cigar pranks included!
Items may vary depending on stock. We will substitute a prank of equal or greater value.
Fake Electrical Outlet & USB Wall Plate Sticker 10 Pack. Prank & Confuse Starbucks Patrons, Airport Travelers, & House Guests Who'll Be Thrilled to Find An Open Plug To Charge Their Precious Devices.
as of April 26, 2017 1:23 am
Features
LOOKS SO REAL! Cut to the actual size of a standard wall plate (3.25" x 5.25"), you may wind up pranking yourself if you put these in your house.
CREATE A HEADACHE FOR YOUR JERK LANDLORD - When the next tenant arranges all their furniture around where they THINK the outlets are, be sure they'll be yelling at the landlord right away!
IMPRESS YOUR WIFE - Has she been on your case to install a new outlet in the guest room? She'll think it looks great, and never know the difference!
KILL TIME ON A LONG LAYOVER - Entertain yourself by sending weary travelers into a panic because their iPad is at 4% and need to finish binge watching "Friends" on Netflix.
SATISFACTION GUARANTEED OR YOUR MONEY BACK. If you're not completely happy with your order, just send us an email and we promise to make it right.